05 Jun

Custom Made Meals Once Again Named a Top Workplace in Colorado 2020
Company's outstanding benefits and family culture recognized for 2nd year in a row
We are proud to announce that Custom Made Meals was recognized as one of The Denver Post's 2020 Top Workplaces in the state of Colorado.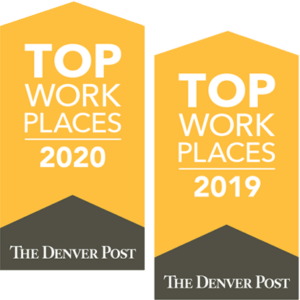 For the second year in a row, Custom Made Meals' (CMM) family culture and empowering core values have earned the company recognition as one of The Denver Post's 2020 Top Workplaces in the state of Colorado.
Leadership at the Denver-based company, which is a leading manufacturer of fresh, handcrafted, oven-ready appetizers and entrées, said the recognition truly goes to their "CMM family" for their deep-rooted commitment to the bigger cause, which is to help turn home cooks into chefs with simple, fresh, and convenient meals that families will be proud to serve.
"It all really starts with a collective commitment to our company's core values of 'Own it, Live it, Make it better,' " said 
Sean Saunders

, CFO and Chief Administrative Officer. "That philosophy influences everything we do. We've built a culture of respect, shaping team players who are empowered to do the right thing for their fellow employees and for our company's mission."
Core to their culture, CMM provides clear career paths and skill-building opportunities so that their employees can advance. CMM rewards their employees' successes regularly with events and unique incentives like Colorado Rapids soccer tickets, the bona fide favorite sport of the "CMM family." In addition, the senior executives take extra time out of the workday to thank the team face-to-face, putting on aprons and serving the whole staff lunch and dinner together.
"CMM shows that they care about us every day," said 
Lorena Moore

, who has worked at CMM for more than a year. "They go above and beyond. I feel proud to go to work every day."
"Celebrating the team is a cornerstone of our company culture, because we treat everyone like a family," said 
Katie Prekel

, Vice President of Human Relations. "As senior leaders, we spend time working on the production floor alongside the rest of the 'CMM family,' because we're all one team."
CMM's proactive response to COVID-19 further highlights their commitment to their team. From the start, they partnered with local health agencies and experts to design and implement extensive safety protocols. They went beyond just physical safety with procedures to protect employees' jobs, paychecks and family time.
"At this time in our nation's history, we are deeply honored to have received this award from such a prestigious organization," said 
Dale Easdon

, President and CEO. "CMM has answered our nation's call and continues to provide 2.5 million meals each week to families nationwide. In the heart of a pandemic, associates know the quality and care they put into each meal means so much more and really exemplifies our values and culture."
The exact rankings will be announced later in the year, but last year, CMM placed 2nd best in its size category out of more than 70 entrants.
See the full article HERE.