05 May

CMM Named Top Workplace

We are proud to announce that Custom Made Meals was recognized as one of The Denver Post's 2019 Top Workplaces in the state of Colorado.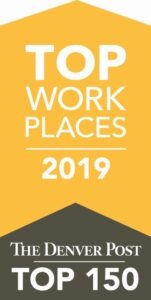 The Post ranked Custom Made Meals, a leading manufacturer of fresh, oven-ready, value-added entrees and appetizers, second among 73 mid-sized companies nominated as best workplaces for Colorado employees. Among CMM's winning qualities, the Post report cited the company's unique array of benefits and performance incentives, its commitment to building a core workforce of full-time employees, and feedback from workers that conveys a sense of belonging amid a culture that allows them to perform to the best of their abilities.
As much as we work to ensure our handmade, ready-to-prepare meals meet the standards of our buyers and the families who ultimately enjoy them, we recognize it all starts with our employees' dedication to producing a fantastic product - Dale Easdon, President and Chief Executive Officer
The Post also commended CMM for its policy of moving temporary employees into full-time staff positions after 90 days and for its efforts to expand health insurance coverage and paid vacation benefits. The Post's Top Workplace rankings were based on employee responses to a 24-question survey.
Custom Made Meals manufactures fresh, ready-to-cook entrées that are sold by Safeway, Kroger, Publix, Target and other supermarkets. The company's products are sold in more than 10,000 stores in 43 states across the nation.
See the full article HERE.